The Eaglet by Jim Elliff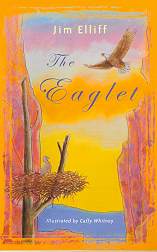 "Oh how he wanted to fly! And if it were not for his father's command, he would do so right this minute.
—From The Eaglet
The Eaglet presents the good news about Christ in a colorful story that engages both children and adults. Parents, grandparents, pastors, Bible study leaders and loving Christians everywhere will find it an important resource for explaining what it means to believe in Christ.
32 pages, paperback, $3.95 suggested retail. "We have worked extremely hard both in art/design and content to present Christ as clearly as possible in this booklet. I think you will appreciate the beauty and message in your copy of the newly-designed Eaglet, but I especially want you to distribute it broadly. We're hoping it will be an unusually effective tool for your churches and communities, and that many will come to Christ through it."—Jim Elliff, author.
Ten-pack price
$2.60 each with free shipping in the USA
Click here to order
Click here for more information
Items to Order for Parents and Teachers
The Narrow and Wide Gates Art Print
Colorful representation of the way of Life vs. way of destruction with scriptural annotation. 14″x18.5″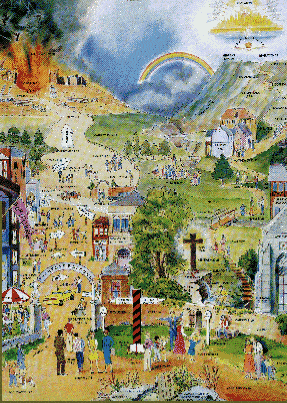 In the spirit of John Bunyan's
Pilgrim's Progress, The Narrow and Wide Gates
art print presents the way of life versus the way of destruction with full scriptural annotation. Adapted and modernized by artist Caffy Whitney from a nineteenth century painting, this colorful portrayal depicts contemporary figures in contemporary settings – some in love with the world and committing age-old sins; others performing righteous acts by the grace of God.
Please Note:
This graphic is not representative of the quality of the print. The size of the graphic file required to portray the poster accurately is prohibitive.
How Children Come to Faith in Christ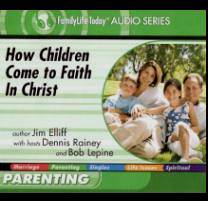 Tape Series featuring Jim Elliff from Family Life Today Radio "This insightful audio series helps parents lead their child to faith in Christ in a way that is relevant to his age and stage in life, and then, encourage that faith in creative, memorable ways. In this series, you'll learn how your godly character and example combined with the words of Scripture will help lead your child to the greatest and most fulfilling adventure in life – faith in Christ." A seven part series on three CDs.
Although this series was first broadcast when Jim was living in Arkansas, it has been aired in whole or part several times since on the FamilyLife Today radio broadcast.
Click here to order.
Pursuing God—A Seeker's Guide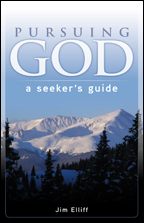 Pursuing God—A Seeker's Guide is for those who are drawn toward God, but want more understanding. In a warm and conversational style, Jim Elliff presents the issues that must be considered for an essential relationship with God through Christ. A guide for reading the book of John is also provided to help readers obtain a firsthand knowledge of Jesus' teachings. (From the cover of Pursuing God—A Seeker's Guide) 70 pages, paperback, $5.95 suggested retail.
Order this book.
See our downloadable study guide below.
Downloadable Study Guide
Study Guide for small groups, weekly family discussions, mentoring, etc.
Wasted Faith
This Book Addresses Evangelicalism's Most Urgent Need! "What is most alarming is this risky willingness of today's evangelicals to gamble eternity on an emotional one-time experience, or a 'sinners prayer' properly prayed, or some feeling of substantial relief at a juncture in time, without ever taking a serious look at what is evident now, at this moment. Is eternal life of so little value that it becomes a waste of time to examine ourselves for evidence of it?" From
Wasted Faith
Retail price: $6.95, 64 pages, pb.
Discounts available.
Click here for
more information about the book,
or here
for ordering information.
Downloadable Study Guide
Discussion Guide
for small groups, weekly family discussions, mentoring, etc.
Going Under: Discussions on Baptism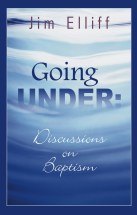 Jim Elliff says: "My hope is that this little book informs both believers and non-believers about the first act of Christian obedience. Not only will those awaiting baptism find it instructive, but mature believers will also be trained by it, and will find it a helpful tool to distribute. Many think they are true Christians merely because they were sprinkled as a baby, or were taught that baptism was essential for their salvation. They could be helped by this book. It has been my experience that believers also understand far too little about this vital subject. To my knowledge, I've never spoken on the subject of baptism without having the privilege of baptizing some who've heard those truths. We must say more about it. I hope Going Under becomes an important tool for you both to gain understanding and to get this truth out to others."
Retail price: $6.95, 64 pages, pb.
Click here to see our discount schedule.
The Life and Labors of George Muller of Bristol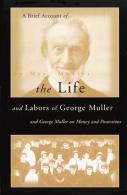 George Muller (1805-1898) believed he had seen over 50,000 answers to prayer. Refusing to ask anyone but God alone for help, he fed, clothed and housed 10,024 orphans during his lifetime in Bristol, England. Perhaps no one in modern history has demonstrated the life of trust in God more persistently and conspicuously than this man.
Retail price: $11.99, 164 pages, pb.
Discounts available for multiple-copy orders.
Click here for more information about the book, or here for ordering information.