by Jim Elliff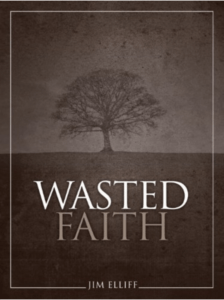 This Book Addresses Evangelicalism's Most Urgent Need!
"What is most alarming is this risky willingness of today's evangelicals to gamble eternity on an emotional one-time experience, or a 'sinners prayer' properly prayed, or some feeling of substantial relief at a juncture in time, without ever taking a serious look at what is evident now, at this moment. Is eternal life of so little value that it becomes a waste of time to examine ourselves for evidence of it?"
—From Wasted Faith
Free Audio of the book can be found here at WayToGod.org.