A Brief Account of the
Life and Labors of George Muller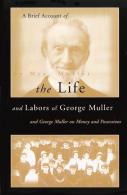 George Muller (1805-1898) believed he had seen over 50,000 answers to prayer. Refusing to ask anyone but God alone for help, he fed, clothed and housed 10,024 orphans during his lifetime in Bristol, England. Perhaps no one in modern history has demonstrated the life of trust in God more persistently and conspicuously than this man.
A Brief Account of the Life and Labors of George Muller was written by Muller's second wife. It is a concise, faithful, and intriguing overview of Muller's remarkable life and work up until he began his missionary journeys in his seventies. A summary of this latter period is also included.
Two sections of this book were written by George Muller himself: first, his original introduction to Mrs. Muller's work, notable particularly for the explaination of how his Narrative ignited revival in Ireland, and, second, a collection of his journal entries which we have called George Muller on Money and Posessions. This compilation presents a challenging alternative to 21st century presuppositions and practices regarding business, investment, retirment, and charitable giving.
Retail price: $11.99, 164 pages, pb.
Buy this book from CCW
Book distributors who wish to carry this title may write for more information and a generous discount schedule. Contact 
info@ccwonline.org