On September 4, 2012, CCW staff member Selamab Assefa and I left America for a few weeks of ministry in Africa. This was my third trip to Ethiopia with Selamab, and our first trip to Uganda. What follows is a brief report, arranged by topics.
Old Friends
Our first weekend in Ethiopia involved ministry
to church leaders in a town called Dangla, about a 10 hour drive northwest of Addis Ababa (the capital city of Ethiopia). We had served in Dangla previously, so it was enjoyable seeing familiar faces upon arrival. The church leader who arranges these meetings in the cool mountains of northern Ethiopia is named Feru. He greeted us upon our arrival, and within minutes I was thoroughly enjoying something we always look forward to—Feru's hearty laughter!
The church leaders gathered in Dangla Saturday morning and afternoon. Selamab and I both taught, and then he preached on Sunday morning. As important as these large group gatherings are, our time in smaller settings (lunch, supper, coffee) seems equally valuable. During lunch on Saturday, one pastor confessed to how fearful he sometimes is to lead the people to do what is right because he knows it will create significant conflicts. We had a fruitful discussion about overcoming the fear of man and listening to Jesus, the Head of the church, even if it causes division.
Our second weekend in Ethiopia was in another familiar spot: Mehal Meda. This primitive town is about a 6 hour drive northeast of Addis Ababa, and it's so high up in the mountains that there is always a considerable chill in the air. Our opportunities in Mehal Meda were similar to our first weekend: Train church leaders, and then preach on Sunday. Once again, we were so happy to see old friends. Sadly, we discovered that a man who was even recently, perhaps, the most influential church leader in the town had walked away from the church. He had been at the center of a painful conflict, and instead of working for reconciliation, he left. I briefly saw this man while there, but Selamab was able to go to his house and lovingly confront him with Scripture. We're praying for his repentance.
New Friends
On the way to Dangla (weekend #1), we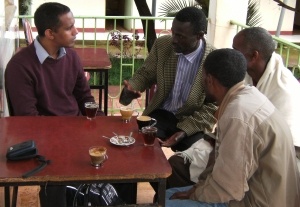 stopped a few hours into our trip to visit with a pastor Selamab's father mentored many years ago. He was joined by two of his associates. They have a deep desire for their members to grow more in the Lord, but for some reason they think the answer is sending people off to Bible college. Though it may be God's will for someone to go to Bible college, we encouraged them to take a different strategy: cultivate a church of Bible readers. I shared a Bible reading concept that involves repetitive reading, urging the pastors to set the example. We learned that the majority of church members have no Bible, so we talked about establishing Bible reading groups. Selamab told them to maximize the use of the Bibles they do have. I shared with the leaders that they must make it a priority to read the Scriptures with their people. Since returning to the States, we have been strategizing how to get more Bibles into the churches in Ethiopia.
While in Addis Ababa, I was delighted to meet a young lady named "Betty" (short for Bethlehem), who is Selamab's fiancé. They are scheduled to be married in Addis on November 18, 2012. It was a joy to get to know this godly young lady. We're eagerly anticipating her arrival to the States soon after the wedding.
Each person met in Uganda was a "new friend."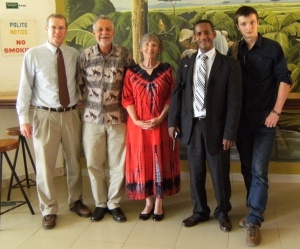 Our hosts were Jim and Kappy Robinette. They serve with Action International Ministries. They were outstanding hosts. Jim is simply the hardest working missionary I have ever met. Selamab and I felt his "drive" because our speaking schedule was incredibly full—just the way we like it! In just six days, we were privileged to speak in at least 23 sessions, including a 3 day church leaders' conference that had about 150 in attendance each day. We also enjoyed preaching twice for a new church that meets under a mango tree, a public school, a very large church four times on Sunday,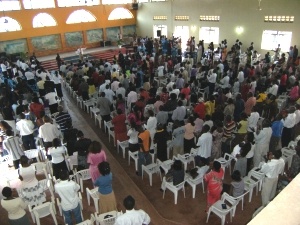 speaking to about (I'm guessing) 800 total, and then once at the chapel service for All Nations Bible College and Seminary. Finally, we were delighted to meet two other individuals who serve with Action—Mike and Rebecca Watters. Rebecca is from the Philippines, where Mike served as a missionary for many years before they married and relocated to Uganda. Interestingly, I preached in Rebecca's church in Manila when I was there in 2009.
Distribution of CCW Resources
Early in our stay at Ethiopia, we visited the print house where Pursuing God in Amharic was printed last year.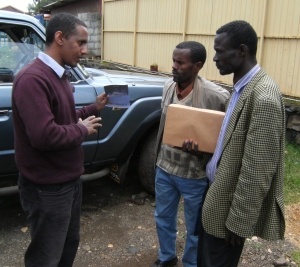 We purchased copies to distribute out in the countryside. They always seem to get passed out quicker than we expect, but we are very confident they get read again and again, both individually and in groups.
Before our trip to Africa, we mailed a large number of CCW resources to Jim Robinette—hoping they would arrive before we did. Thankfully, they got there in time. Each day of the 3 day church leaders' conference, and sometimes at strategic moments during the gathering, CCW materials were put out for the leaders to take free of charge. They always went quickly!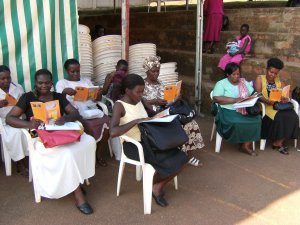 I especially enjoyed walking outside of the meeting area after the meetings one day and seeing a whole group of children's Sunday School teachers intensely reading a copy of The Eaglet they had just received.
Surprises
About a week before we were scheduled to leave for our journey, Jim Robinette helped me to see how beneficial it would be to teach about church planting—specifically starting churches that meet in homes with the aim not of eventually moving into a building, but of multiplying home congregations (like my church, Christ Fellowship)
Those stressful hours of preparation in that final week before the trip were worth it, especially in Uganda. The church leaders, especially the pastors and church planters, showed enthusiasm both during the teaching, but also while dialoguing with them between sessions. A couple of pastors had recently started churches in homes. If interested, you can listen to these talks about church planting (with translation into Luganda): The first session is located here, and the second session is here.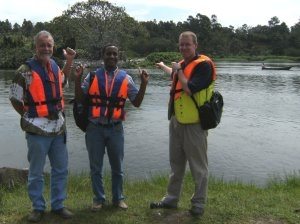 On our final day in Uganda, Selamab and I enjoyed a trip with Jim Robinette to the source of the Nile. We took a 1.5 hour boat ride, hearing about the history of the area and taking pictures of the wildlife. We headed home, anticipating a leisurely afternoon of packing and resting for our flight that night. About 10 miles outside of Kampala, we noticed a frenzied group of well over 100 people. One man in the crowd was getting stones and fists thrown at him. Jim pulled our vehicle off to the side of the road, told us to wait in the car, and got out and started loudly pleading with the people to calm down. He told us later that type of action often calms Ugandans down—but not this time! They pushed him away and kept up the beating. Why? This man had tried to steal someone's motorcycle, so, as one man told Jim, "He tried to steal motorcycle. He must die!" These people were going to kill this man. Where were the police? None were around, so we drove down the road looking for them. We found two policemen with machine guns, told them what was happening, and they hopped into our Land Rover. Jim was able to drive right into the chaos, the police got out quickly, and as soon as the people saw the guns, things settled down and the man's life was saved! This whole event was a demonstration of the depravity of man, the need for the gospel, and the courageous spirit of missionaries.
Future Ministry
We hope to continue to do the same things we have been doing—train leaders through Bible teaching and teach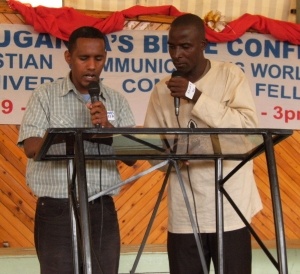 others believers as opportunities arise. Selamab's approach to teaching the Bible has a significant impact on the African pastors. He does careful exposition, seeking to understand the passage according to context and authorial intent and then he applies it carefully to the hearts of the hearers. This is not only a crucial approach in order to cooperate with the Holy Spirit to see change in the hearers, but it also models a correct and humble approach to the text of Scripture and how to go about teaching it.
Praise
I wrote in my journal one last time on one of the flights home, ending with this prayer:
Thank you, Lord, for your sustaining, empowering grace the past 3 weeks. Thank you for loving and caring for my family during my time away. You are sovereign and good, omniscient and merciful, omnipresent and purposeful. I pray You from Whom all blessings flow. Amen.