Here are a couple of reports from recent trips by Steve and Patty, and Pam and me.
Christ is Building His Church: Steve Burchett's Report from Austria and Lebanon
It's one thing to think "in theory" about Jesus' promise to build his church (Matthew 16:18), but it's another thing entirely to actually hear first-hand accounts and to see that promise being fulfilled. On a recent ministry trip with Patty to Salzburg, Austria, and then Beirut, Lebanon, I got to hear about and see this great construction project of our Lord's that is happening all over the world. And, yes, you heard that right—for the first time ever, Patty was able to travel with me internationally. How wonderful it was to have her alongside for the experience and ministry!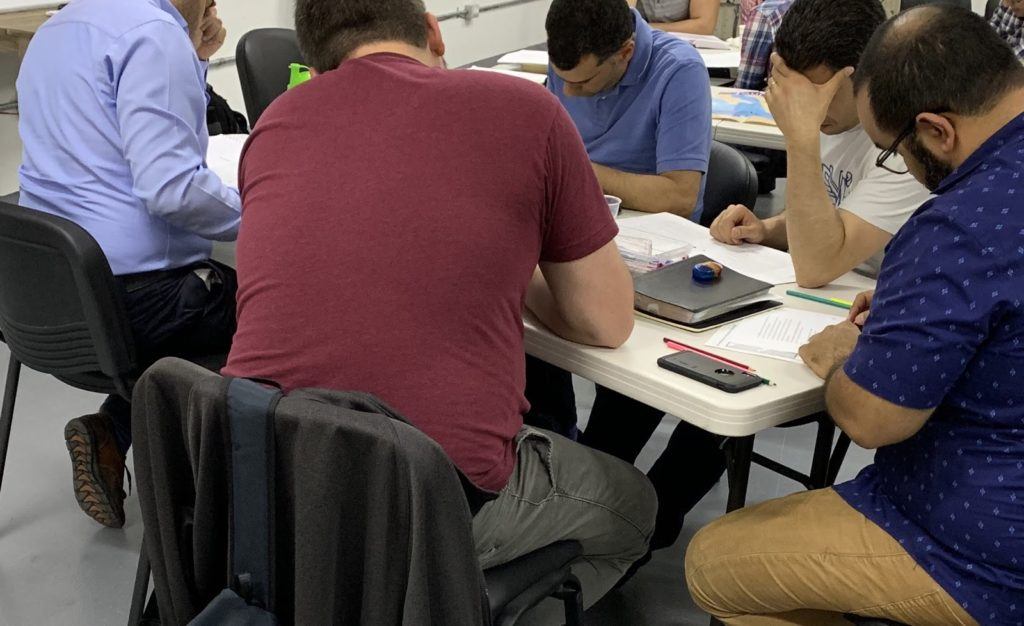 Our first stop was Austria. I was invited there for the purpose of training some leaders who serve in the ministry called Voice of the Martyrs. For several days, we spent lots of hours studying together the last two chapters of John (in a "Bible Intensive" format that you've heard us talk about so often in the past). These men were eager, humble participants. We not only worked through our text, but also spent some time thinking through the most strategic ways to train church leaders around the world to carry on an indigenous, gospel-advancing, local church-establishing ministry. Yes, Christ is building his church, but he does it through his people—so we strategized together about the most helpful ways to cooperate with what Jesus is doing. Even apart from the hours of inductive Bible study, Patty and I spent much time with these men, a young lady who serves as an administrative assistant, and the wife and children of one of the leaders. We shared together meals, stories of the Lord's faithfulness and power, taxis, trains, and even sight-seeing experiences.
Our second stop was Lebanon. What a privilege to lead about a dozen carefully selected Lebanese ministry leaders (mostly pastors) to spend two whole days of very intense study of a section of Scripture in Acts. I was also privileged to speak for a church that has a building that was bombed back in the 1980s (I saw pictures!), and to spend hours discussing what Jesus wants regarding church life and what the Lord is doing in Lebanon. One man's testimony, a pastor in Lebanon, stands out. He told me about recently baptizing twenty-one new believers, including two men who were prominent Muslim teachers and leaders before coming to Christ. He's also pastoring a growing church, plus trying to establish in sound doctrine at least ten house churches located around his large city. In Beirut, Patty and I also got to see a young lady who is a member of our church. She had been over there nearly 8 months serving Syrian refugees. We met at a Starbucks along with a couple of her team's leaders and heard awesome stories of the truth advancing to broken, needy people. Indeed, Jesus Christ is building his church all over the world, "and the gates of hades shall not prevail against it."
Jim Elliff's Report from South Africa
We returned Tuesday, May 28, after our 24 hours of travel from Johannesburg.
We were very much aware of God's help in the meetings in both South Africa for the near month of days we spent there. Jim led 25 "events," for lack of a better word, in SA, but five or six of them were multi-session. So, it was a real physical and spiritual work-out. Each time we were specifically asking God that people would be inspired and convicted through the messages. And each time we received various confirmations of His work up to the last message. Highlights include . . .
—Spending time with Marco and Laura (our son-in-law and daughter in Johannesburg) in their granny apartment which is attached to the beautiful home of some church members. Laura is pregnant just entering the third trimester. It was encouraging to see her so happy and serving God. She began leading an inductive bible study following our visit, in Sandspruit, where they are attempting to start a church. It is a squatters village of 150,000 people who live mostly in corrugated metal shacks. Marco was an incredible help to us, arranging all of our itinerary so perfectly. Not only is Marco an exceptional leader and organizer, but is gifted in Bible interpretation and presentation. We're very excited about the future ministry of Marco and Laura. Please pray for them.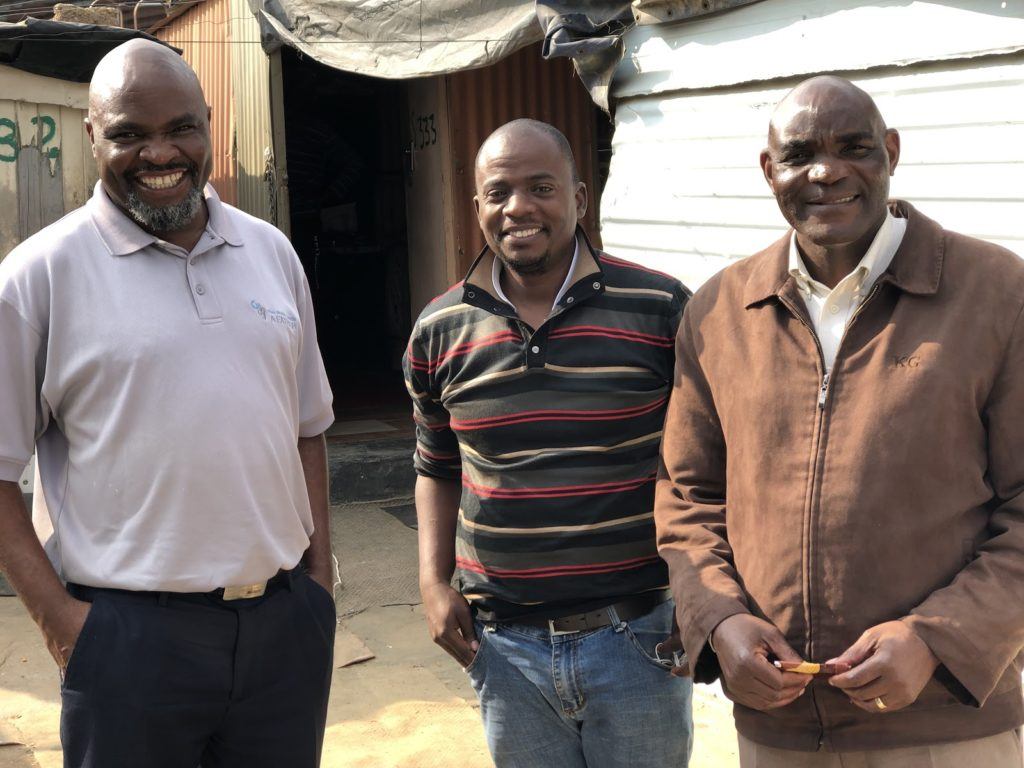 —Speaking in Soweto Township, known to many of us through the apartheid years as a place of violence. At the church that morning was a group of athletes from Baylor, which I think was a surprise even to the pastor. One of the young Catholic men from that group approached me afterward to say that he was very concerned about whether he knew the Lord. Later, on the flight home (interestingly, they were on our same flight and seated in the same section on the plane), another young woman from the Baylor group who had heard the message told me the same. Both of them were moved to reexamine their lives and to pursue God. I was also able to give them copies of Pursuing God, which was originally a compilation of articles I wrote for the Fellowship of Christian Athletes magazine. Like John Wesley, they could have crossed the ocean on a mission trip only to find out they needed the Lord they were proclaiming.
—Meeting Philip Gittens from the Moletsane church who had found a copy of Wasted Faith in his sister's apartment 25 years ago and was so shaken up he finally knew that even his theological education in the Dutch Reformed Church had not brought regeneration. He was then converted a short while after that. Hear his story here.
—Spending four days with the Voice of the Martyrs Africa regional leaders in Cape Town. We worked through two days of inductive study together on Mark 4. Working with them was the initial invitation and the main reason we went to Africa this time. We're thankful for our several years of relationship with VOM on various levels. Their invitation opened the door to other churches and organizations to invite us.
—Being interviewed on the subject of repentance by Tyrell Haag on a national radio program. He was an excellent interviewer and I felt that much good content was laid out by his thoughtful questions. Listen here.
—Speaking in so many churches, large and small, over Johannesburg and Cape Town. In most of them we were able to enjoy spending a more intimate time with the pastors and leaders as well. Some of the churches I had been in before, on previous trips. I first went to SA 33 years ago! We were in Antioch Bible Church, Randburg Baptist, Emmanuel Baptist, Crystal Park Baptist, Moletsane Baptist and Brackenhurst all in JoBurg; in Cape Town I spoke in Everglen Baptist, Kraifontein Baptist and Goodwood.
—Working through inductive Scripture studies with four groups. We always love the impact of doing this. Not only do they experience the joy of discovery in a passage, but also learn a method of study that will stick with some throughout their lives. We did this at Antioch Bible in JoBurg for the second time. I was encouraged by one of the pastors to continue this whenever we visit.
—Speaking in the Monash University and to a group of young people provided a way to answer deeper questions. Both groups queried me for some time. I felt God helping in this. Some of the listeners engaged me afterward with further questions indicating that they were searching for answers.
—There were pastors meetings such as The Expositors Forum and the Sola5 Fraternal where I had the privilege of addressing the concept of "The Angel of the Lord, The Word, and Other Christophanies" and "Strategic Dialogue on Gospel Impact" in which we thought about the specific pattern of God to bring in harvests of souls through Divine visitations or awakenings.
—The address at the Bible Institute of South Africa in Kalk Bay was so enjoyable. The students and faculty seemed very interested in the subject: "What is the Lord's Supper and What Makes it HIS Supper?" I explained how it is actually a fellowship meal instead of what we have typically become accustomed to, which is in many cases the most private act of worship churches experience. I had spoken there many years ago, as well.
—There were multi-church breakfast meetings hosted by Florida Baptist and in Everglen Baptist that were well attended with eager men. I loved those meetings.
—Sharing meals and tea with many friends, some known to us for many years, such as Karel and Madeline Jaspers who hosted me on first of perhaps ten trips to South Africa 33 years ago!
—We also enjoyed some sights and rest days. Pam and I were able to spend an afternoon seeing the beautiful coastline of the Chapman's Peak with pastor David and Luci Fall and their children, on our way to a braai (South Africans love these—it is what we call a bar-b-que) with people from the Living Hope Church where we were asked to answer questions about church life. We were also hosted by Jack and Amanda of VOM, sharing a couple of great meals and fellowship. Veteran missionary and wife Mark and Debbie Christopher hosted us as well, taking us into the scenic wine country of the Cape area.
—Earlier, in the middle of our trip, and closer to JoBurg, we spent two nights in Haartbeespoort with Laura and Marco staying at a nice Airbnb in a nature reserve. Marco enjoyed throwing rocks into the crowd of monkeys that gathered outside of our cabin and watching them scatter. He didn't like the squirrels that were making a nest in the thatch roof above their bed though. They started dropping straw onto the floor next to their bed in the loft! The geckos up near the roof were also interesting. From the reserve, we hiked three hours up to the cable car (the promise of ice cream at the top kept us going) thinking we would go down on the cable car. But when we found there were no Ubers at the bottom to drive us back home, we hiked back down!
What a privilege we have to get to teach people in the Word, to get to see people come to faith in the Lord, to have fellowship with people from many cultures, to experience so many beautiful places and to have such loving and selfless brothers and sisters as we find there! We really appreciated your prayers!
With our love,
Jim and Pam