Dear CCW family,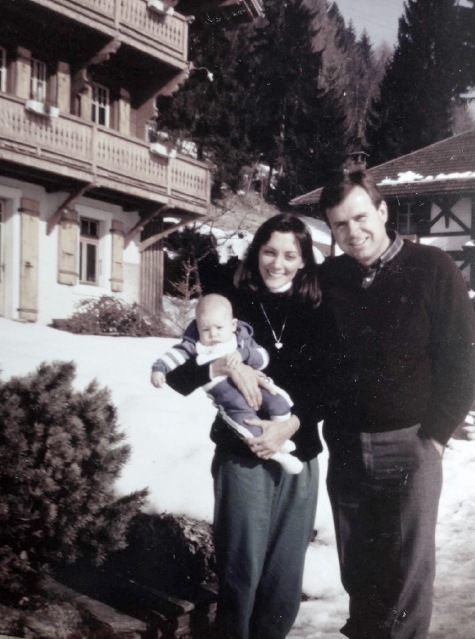 It was 55 years ago that I first read the book, George Muller of Bristol, by A. T. Pierson. I remember where I sat to read it. It was my sophomore year at Ouachita Baptist University. I had borrowed the book from my father's library and was sitting in the sun outside of my apartment.
As I read the words and imagined the actions of Muller, I was moved deeply. Muller had fed and clothed over 10,000 orphans in Bristol, England, without asking anyone but God for help. I said to myself and to the Lord, "I want to be a man like that." It wasn't the wrong kind of ambition, but something spiritually motivated. When I think of that moment, I often tear up. That moment in my life started me out in a different direction. I've not turned back.
My first response to what I read was to give. I didn't have much money, but I did have some things. I tried to give some of my things away as I felt it was appropriate. Up to this point, I had to ask my parents for a few hundred dollars at the end of each semester. This time, however, I went to pay my bill and had something like $2.38 remaining. I was stunned, and went out with a friend to buy a hamburger to celebrate! That confirmation to me was a huge encouragement. I continued with a powerful urge to be a giver. That was sweet work. Imagine it. I got to give away God's money and God's things.
Story after story was lived out through the next seven years of my education in college and seminary. From that time until the end of seminary, except for a few months of ministry in Dallas, I had no certain income as an itinerant speaker. In seminary I was speaking an average of 40 retreats and meetings each year,
heading to Dallas Love Field on the weekends more times than I like to think about it. After seminary I pastored two churches as a single man in Little Rock and North Little Rock, Arkansas. During that time I met and married Pam who shared my interest in a different kind of life.
We had our own experiences as a couple with trusting God during those first years in North Little Rock and eventually in Orlando, Florida. A few of them were so remarkable that we will need to share them another time when we can do them justice. Then, back in North Little Rock after several years pastoring in Orlando, Pam and I decided we would step out on God's promises to start Christian Communicators Worldwide. That was 1986, ten years after our marriage began. At that time we again thought through those principles we had learned from George Muller and from our own searching in the Bible and prayer.
We decided to look to the Lord for provision as completely as we knew how in this ministry. We would do our work without asking others for help and by looking directly to the Lord for what we needed. We didn't think it was necessarily wrong for people in Christian ministry to ask, but we also knew that it was permissible not to. We took that route with the conviction that, if God provided without our asking anyone but him, we would be able to make the case that he is alive and answers prayer, and that he cares about his children. We haven't had a salary for 38 years, or asked for help for CCW; everything has come as God moved people's hearts without our asking. Other people may attempt to demonstrate faith different
ways, but we were excited to attempt what would seem impossible to many. In fact, we gave away what money we had as we began, and leaned on him from the start. He did not disappoint, though many times he came through last minute. Along with this new way of living, after not being able to have children for ten years, we added our first child to the equation, Benjamin … another mouth to feed by faith. Since that time, Bryan and Laura came along as well, to complete our family.
We moved our ministry to Kansas City, Missouri, in 1996, another ten year interval later, to work with Midwestern Baptist Seminary whose president and team were making huge advancements in the school related to their stand on the reliability of the Bible. We came in the middle of that transition. We were offered salary, but we refused. The president was gracious to give us space for our ministry, and the freedom to have interns and even a packing room for distribution along with an office suite. We did our best to do our ministry, which was quite active, and to carry out faithfully the work God called me to at the seminary. I led The Center for Biblical Revival for several years there, along with some adjunct teaching. And, as if we did not have enough to do, we started a church.
Over these years of trusting the Lord in our ministry, God has brought to us several millions of dollars for our family, our workers, the travel and publishing and office and storage space, and everything else. Our family would be paid only what came through the ministry designated for us, as did the other "communicators" who would come along with us. During these 38 years, he hasn't failed us but has allowed us to publish and distribute a few hundreds of thousands of books and other publications, and to teach in many parts of the world (over 40 countries, and almost every state).
We only missed one personal bill. We could not come up with the few dollars more we needed for the tax bill no matter how deeply we combed through the drawers. The next day God provided and it was paid, with a $25 fee on top. That was good for me. I'm sure the problem was ours and not God's. We often say that we have seen God's provision for publishing and traveling and storing and packing and living in our homes and eating and doctors, and so many other needed things so often and so faithfully, that it is hard to doubt that it will come about. Yet, there were many times he kept us waiting until the last minute so that our faith would grow. These 38 years have been amazing.
I know that most of the world will make a salary and we think that is God's plan for most. And we don't think we are the only ones trusting God at all. But I'm so glad that we've been able to go this way for our ministry so far. It is still happening; he is still supplying, up to this very day. If he should stop, we will stop. It's his ministry.
We are thankful to have our hands full of work to do. Steve Burchett and I both had several conferences and Bible Intensives that we've just finished. This was a busy season. I'm getting older. I'm not worried about that. He keeps me going and we don't doubt that this will continue. And even if I could not do all that I do now, which is essentially the same as I have been doing all these years, I still know that he will supply our needs up until the day I drop, and for Pam, and for the ministry as long as this ministry is supposed to exist for God's glory. George Muller was traveling around the world until he was 87. It can be done if that is what will please God.
Thanks for reading from very high up a little of the story of our lives.
---
CCW's Next Step
Since the main part of our traveling is finished this fall, we will spend the days ahead until the first of the year working on our writing and publishing. Lord willing, we will have some new works available next year for your use and distribution. Giving our books away has been exciting this year and with the agreement that a picked up book will be a read book (or that they will be used strategically), we believe much good is being done. Please pray with us about the serious job of writing. We have plenty of evidence that God is pleased with this endeavor and is prompting us to do the hard work which lies ahead to serve him.
What a privilege!
Several times this fall I spoke on "The Life of Trust." Here is one set of audio messages from the Oklahoma Conference on Reformed Theology where this series was given and the audio was clearest. I hope you find them stimulating.
Visit www.okcrt.com/okcrt-2023 to listen to the "The Life of Trust" series.